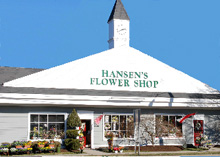 Hansen's Flower Shop
1040 Post Road, Fairfield Connecticut
Phone: (203) 255-0461
Email: info@hansensflowershop.com
Looking for a florist?
Hansen's Flower Shop has a team of educated wedding and event specialists who are waiting to meet with you and go over the floral details of your special day! Help us out by filling out a short questionnaire so we can get a better idea of what you are looking for. We will contact you shortly to book an appointment.
Contact Us